Declaration of the Council of the Syrian Charter, for immediate release
18 August 2020
A message of solidarity to the people of Lebanon following recent events in Beirut
The members of the Council of the Syrian Charter believe that the fostering of amicable relations and the furthering of cooperation between states and societies are fundamental principles of international law and international relations. They also acknowledge that humanitarian crises have strong repercussions on the domestic circumstances of neighbouring countries.
The members of the Council are fully aware of the wide-scale devastation caused by the massive explosion in Beirut's port. The explosion is expected to exacerbate difficult pre-existing socio-economic conditions and growing political tensions. The members of the Council are also mindful of the upfolding humanitarian crisis, as a result of the blast in which many people were killed and injured, and significant economic losses incurred.
As Syrian society previously supported the people of neighbouring countries during times of crisis, the Council of the Syrian Charter declares its full solidarity and its wholehearted support for the Lebanese people and for each and every person affected by this grave humanitarian plight.
It is with dismay and great sadness that the members of the Council convey their deepest and most sincere condolences and sympathies to the victims' families and friends, and they wish all of those injured a full and speedy recovery. The members of the Council also hope that all affected families will soon be able to resume their lives and rebuild their livelihoods.
…
(English translation for convenience, the Arabic text is binding)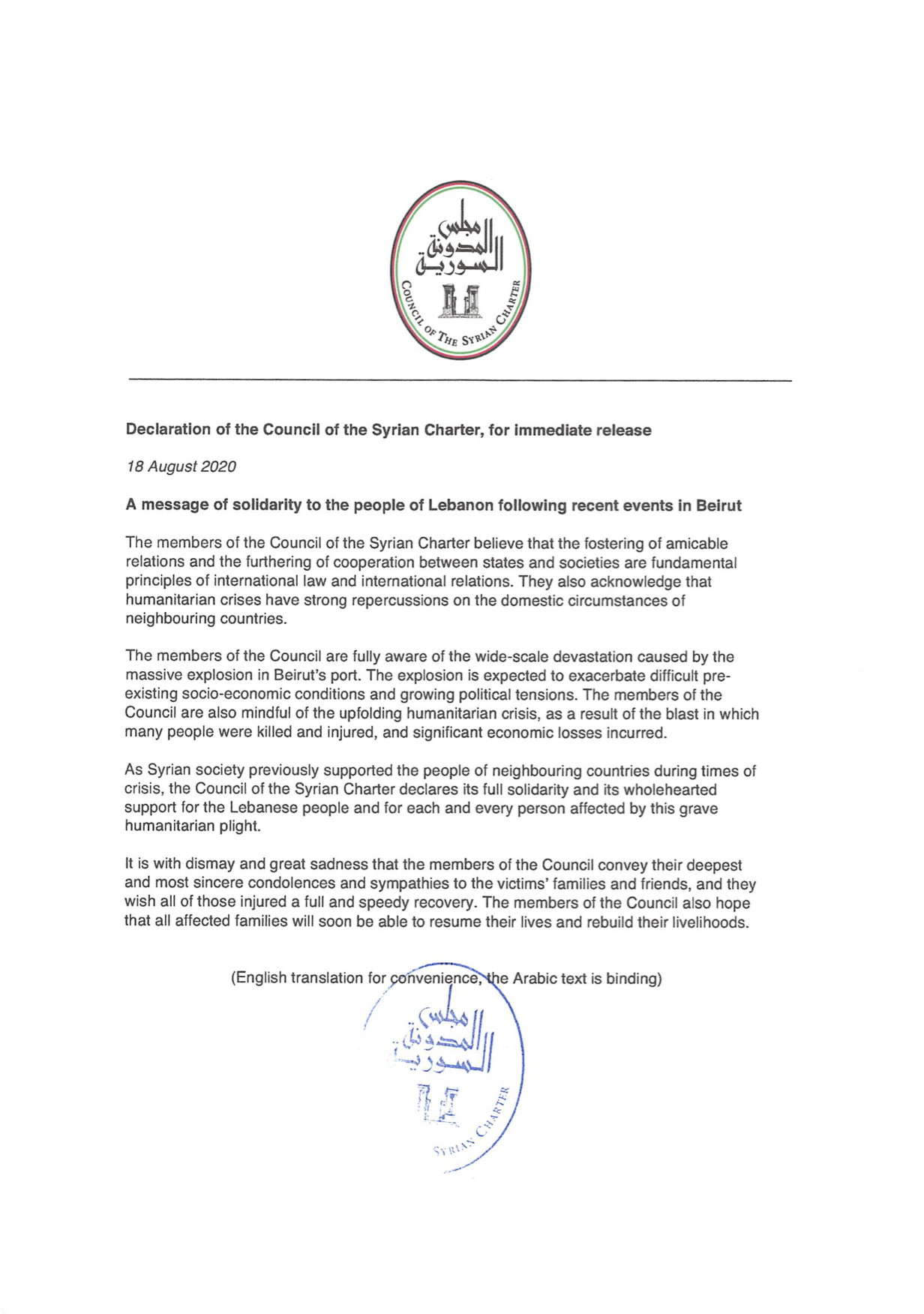 Declaration of the Council of the Syrian Charter, for immediate release ©